Anemoi Rotor Sails: Propelling ships into a sustainable future
If Anemoi Rotor Sails were installed on every suitable vessel in the world fleet, the potential annual savings would be:
5-30% fuel & emission savings
Anemoi Rotor Sails harness power from the wind to propel ships. This results in improved vessel efficiency and reduces the fuel consumption and release of harmful emissions into the atmosphere.
Both fuel and emissions can see a reduction of up to 30%, making our Rotor Sails an effective, sustainable solution for today's shipping industry.
Read More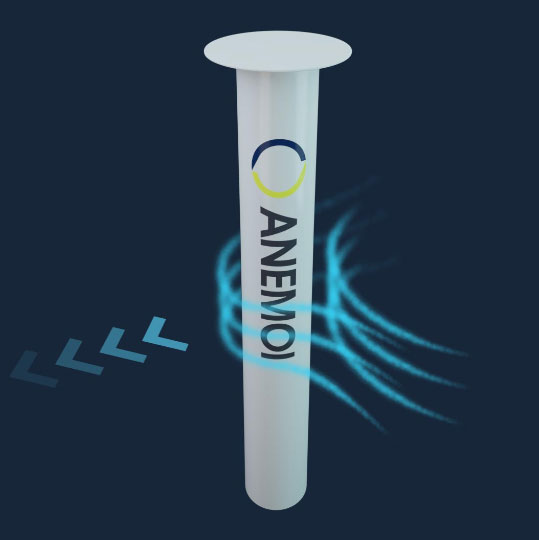 Using the Magnus Effect to generate thrust
The Rotor Sails are driven to rotate by a motor. When a wind flow meets the spinning Rotor Sails, a pressure differential is created. This causes a thrust force which provides auxiliary propulsion to the vessel and can be used to increase the vessel speed or reduce the consumption of the main power unit.
Wide range of Rotor Sail sizes to maximise vessel efficiency
We have a wide range of Rotor Sail options and therefore our standard sizes are suitable for most vessel types. Our cleverly engineered core design is easily scalable so we are able to tailor the Rotor Sail size based on individual vessel designs in order to optimise performance.
Having this flexibility means Anemoi Rotor Sails are suitable for almost all commercial vessel types, including all sizes of Bulk Carriers, Tankers, Gas Carriers, RoRos and Ferries.
See our full range of standard sizes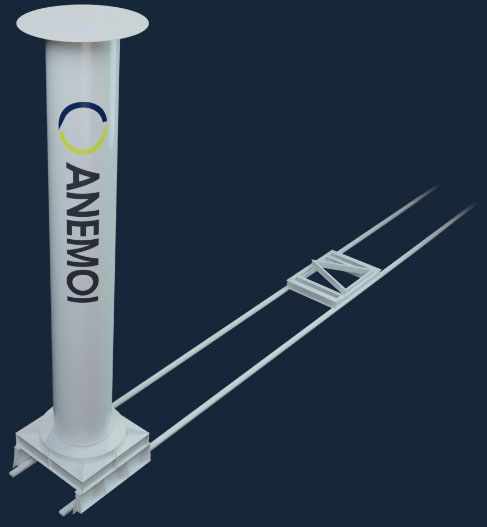 Rail Deployment System
For vessels with complex cargo operations, such as Bulk Carriers, Anemoi has developed a patented Rail Deployment System. This allows our Rotor Sails to be moved along the deck of the ship so cranes can effectively load and unload without obstruction. Dependent on deck layout, the Rotor Sails can either be moved from side to side (transversely) or along the length of the ship (longitudinally).
This system ensures our Rotor Sails have no impact on vessel operations.
Folding Deployment System
If air draft and cargo operations both come into consideration, Anemoi also offers a Folding Deployment System. Rotors Sails fitted with this system can be lowered from vertical to horizontal, to allow the vessel to pass under low bridges and/or avoid impact to cargo loading and unloading.
Both the Rail and Folding Deployment Systems require minimal crew input and take only 10 minutes to complete operation.
Fixed Rotor Sails
Our Rotor Sails come with a Fixed Foundation as standard, which is typically used for vessels where the height of the Rotor Sail is lower than the existing vessel, and air draft and cargo operations are limited to specific areas of the deck.
Read More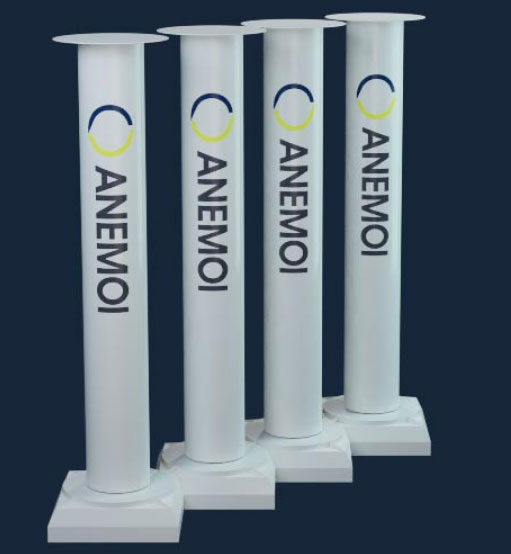 Seamless installations
The number of Rotor Sails on a ship is determined by factors such as vessel size and deck space.
Rotor Sails can be installed on new ships or retrofitted onto existing ships. When retrofitting, installation is aligned to take place during standard or special surveys, with the Rotor Sails lifted on board in a matter of hours. Dry docking is not required for retrofit installation.
Systems are inspected, surveyed and approved by Class at all stages of construction and installation.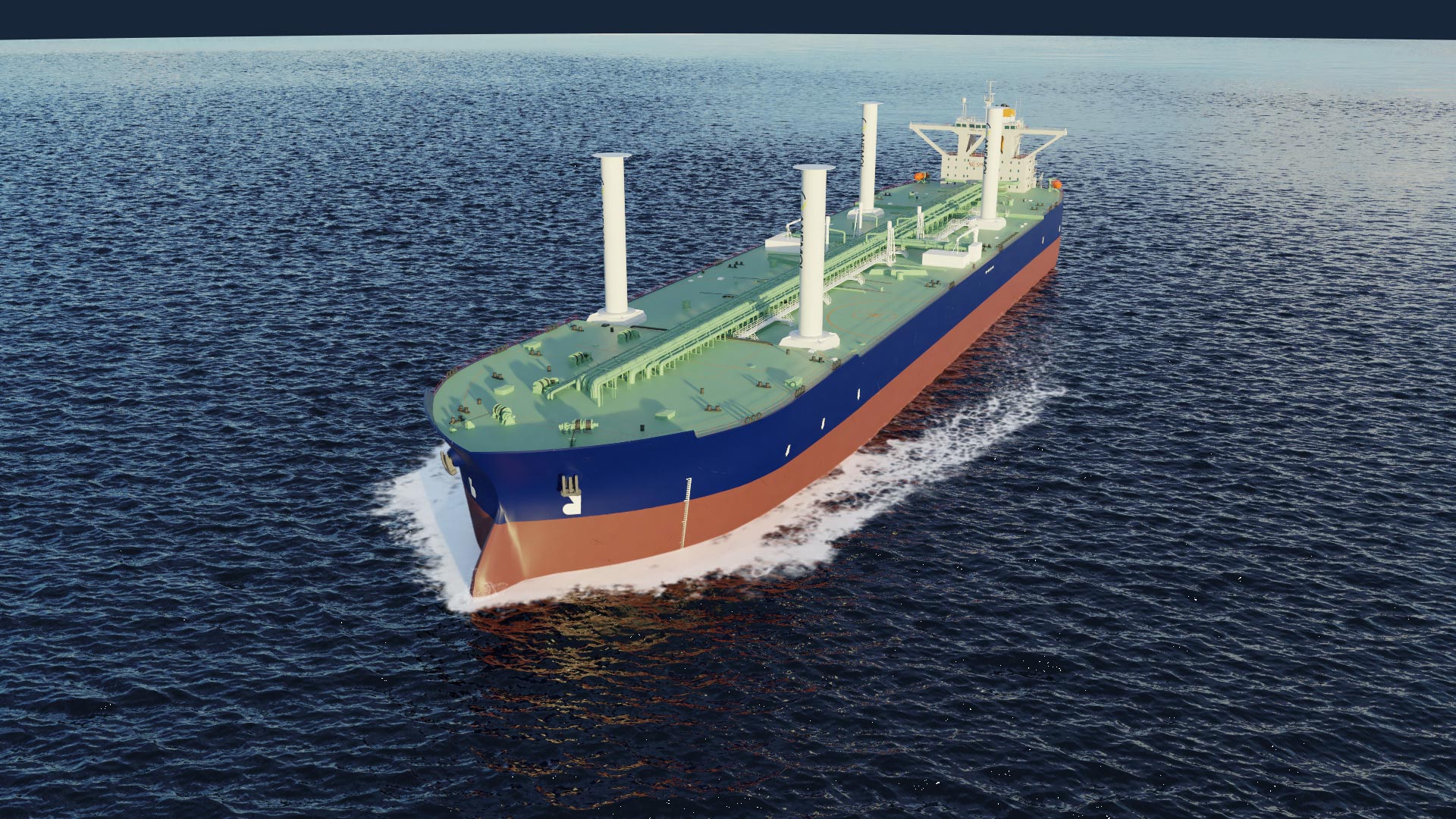 Easy to operate, minimal maintenance
As part of equipment delivery, we offer an after sales support package and full crew training.
Anemoi Rotor Sails have a lifespan of 25 years and require minimal upkeep. Any required maintenance is timed to align with typical vessel maintenance activities to ensure ship operations are not impacted.
Read more
At Blue Planet, we're passionate about finding ways to reduce our carbon footprint within the industry. Installing Anemoi's rotors has not only helped us make the move towards sustainable shipping, but the system has also proven to be safe, reliable, and easy for the crew to operate. We are delighted to be one of the first to use this innovative technology and have the first installation on a Bulk Carrier. We look forward to more installations in the future.
Matthew Los,
CEO of Blue Planet Shipping
Key benefits
Regulatory Compliance
A 5-30% reduction in harmful emissions, including CO2, SOx and NOx, benefits the environment and helps vessels adhere to regulatory guidelines and targets. Rotor Sails positively impact the EEDI score of a newbuild vessel and can provide a route to compliance with upcoming 2025 Phase 3 regulations, and improve potential operational indicators for retrofit installations (e.g. EEXI and CII).
Verified Thrust & Reporting
Performance reporting is generated using real time data transmission and verified against thrust data from Anemoi's full-scale UK based testing facility.
Automated & Easy to Operate
We offer fully automated and optimised operations using Anemoi's Control System located on the bridge.
Movable Asset
Anemoi Rotor Sails can be redeployed between vessels as driven by business requirements so owners can feel assured of the longevity of investment, securing payback.
Suitable for Most Vessel Types
Rotor Sails are suitable for most vessel types, including newbuild and retrofit, Bulk Carriers (geared and gearless), Tankers, LNG and LPG Carriers, Ferries and RoRos.
Safe & Robust
Anemoi Systems are designed and certified in accordance with leading classification society rules, ensuring compliance with the highest marine quality standards.
About Anemoi
Our mission is to advance Rotor Sail technology, accelerating its adoption across the world's merchant fleet and proving it can work for a sustainable future of shipping.
Incorporated in 2015
Team of Industry Experts
Operating Globally
Fuel Saving Assessment
See how much you could save
The first step in understanding the potential of Anemoi Rotor Sails for your vessel is for us to undertake a fuel and emission saving assessment. By sending us some specific information about your vessel(s), we can provide a bespoke Rotor Sail arrangement and estimate of your potential savings.